Stöa dal'Ega
Your cosy wellness parlour - with Aqua Bad Cortina thermal water
and the relax garden bordering on the forest


Enjoy our wellness area!
The highlights
The thermal water drinking corner 
- offering local organic herbal teas and
- best thermal drinkging water
The "Cembrarium Thermal Sauna" made of natural Swiss stone pine from Fanes
- Steam brew with thermal water Aqua Bad Cortina and alpine healing herbs (during summer, directly from our organic garden)
- temperature 50-60°C
- humidity 45-55 %
The "Finnish Thermal Sauna" made of fir wood
- with thermal water brew Aqua Bad Cortina
- temperature 88°C
- humidity 11 %
The infrared sauna - "Physiotherm"
- temperature 44°C
- humidity 22 %
The "Thermal Kneipp" treatment to stimulate blood circulation
- with thermal water A.B.C.
- cold water stimulation ca. 14°C
- warm water stimulation ca. 37°C
The alpine garden for relax, refreshing and regenerating
- directly on the San Vigilio river
- bordering the of Monte Rid forest
- reading and relaxing corner in Swiss stone pine from the Fanes
- relaxing chaise lounge (summer)
SUMMER: open sky whirlpool
- with A.B.C. thermal water
 SUMMER: the organic garden with Kneipp Parcours
- natural Kneipp walks in the San Vigilio river
- pebble route with natural foot massage
- Kneipp bath for the arms
- barefoot walk on the meadow
- walking on dew (in the early morning)
Inside wellness
At Aqua Bad Cortina it is never enough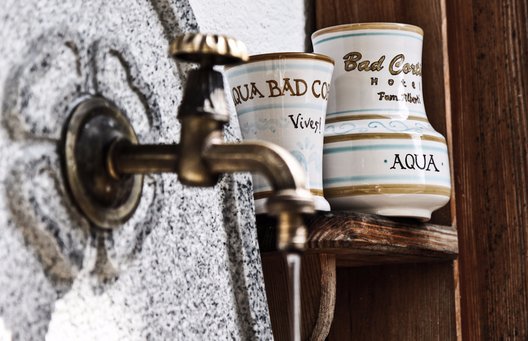 No limit relaxation
After an active and dynamic day outdoors, continue to pamper yourself at the sign of comfort and relaxation in our wellness oasis inside our hotel equipped with Finnish and infrared sauna, vapor shower and relaxation area.

Here you can take advantage of the beneficial properties of the spa waters and sauna that gives great flexibility to your skin and helps to expel toxins. Relax in our rest area, lulled by pleasant music; sip a depurative herbal tisane or a glass of fresh and healthy Aqua Bad Cortina.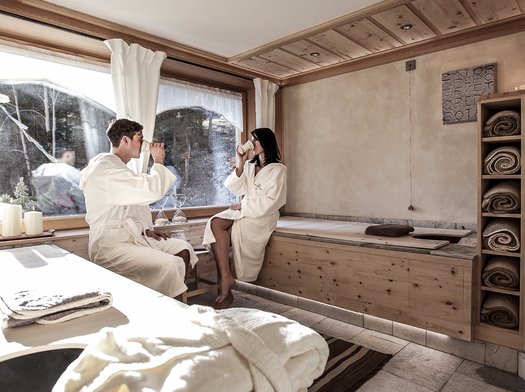 Outside wellness
True well-being immersed in the countryside of the Dolomites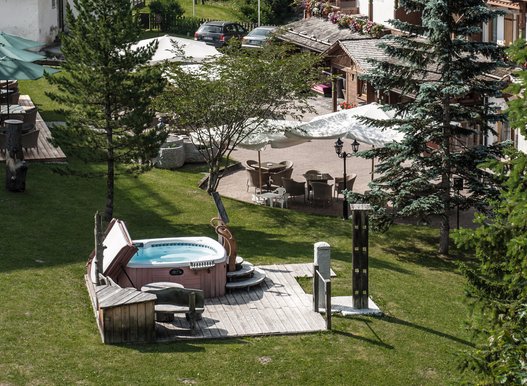 Aqua Bad Cortina Oasis Hotel is characterized by the full weekly programs aimed at making our guests live the Dolomites in their true and proper glory: its natural environment. Drinking water from the private fountain of crystalline mineral water, walks in the woods, hiking at dawn, days in the Nature Park, and Kneipp course in the hotel stream. These are some of the experiences of "outside wellness".

Have you ever tried a foot massage by walking over cobbles in a stream?
Our beautiful sunbathing lawn with an outside whirlpool that offers a "view of the Dolomites" is the relaxation area of this immense open-air wellness centre called South Tyrol.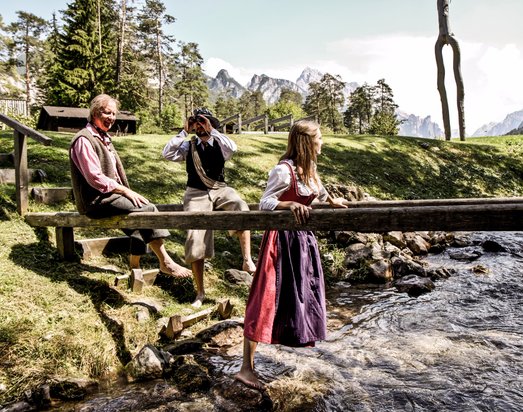 Our partner's SPA offers
Swimming pool, sauna and beauty treatments exclusively for Aqua Bad Cortina guests

In addition to the extraordinary wellness services offered in our house, we are working together with exclusive partners to offer you following additional services.
Hotel "Monte Sella"
www.monte-sella.com

"Swimming pool" section available from 9 am to 3 pm;
Price per person and day: € 15 for adults and € 8 for
Children;
Including: bath towels and drinks in the wellness area;
Beauty treatments from 10 a.m. to 12 p.m. and from 2 p.m. to
8 p.m. on reservation;
(Prices vary depending on the application.)

Swimming pools and sauna center "Cron4" in Brunico
(20 minutes away by car)
www.cron4.it
"Swimming pools" section available from 10 am to 10 pm;
Price per person for 2.5 hours: from € 7 adults and from € 4
Children; "Saunas" section available from 12 noon to 10 pm;
Price per person, 3 hours, from € 17.50;
These prices are available exclusively for guests from the Aqua Bad
Cortina -20% price advantage!